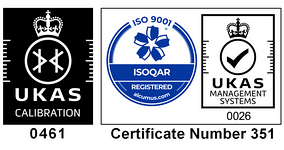 TMS Europe provides UKAS accredited calibration services for a wide range of sensors, instruments and equipment both in our laboratory and at our customers' sites.
We offer comprehensive calibration which meets national and international requirements and specifications including ISO/IEC 17025:2005, ISO 9001, AMS 2750E, HTM2010 & HTM2030, FDA and blood storage & handling requirements MHRA, plus many others.
Our calibration engineers perform thermal surveys on site to establish the volumetric uniformity and stability of ovens, incubators, furnaces, fridges & freezers. As well as humidity and temperature surveys of environmental chambers and controlled rooms. These can be carried out under our UKAS accreditation or as an in-house traceable service.
Our calibration services are split into two categories: nationally and internationally recognised UKAS ISO 17025 accredited calibration and ISO 9001 certified calibration which is traceable to national standards, for non-critical measurements with less stringent requirements.
Below is a brief overview of the types of calibration service we offer. View our full UKAS Calibration Schedule for extensive details of our UKAS accredited capabilities.
Calibration Type
Laboratory
On Site
Traceable
UKAS
Traceable
UKAS
Thermocouple & RTD Temperature Sensors
Yes
Yes
Yes
Yes
Infrared Thermometers / Radiation Pyrometers
Yes
Yes
Yes
No
Metal Block Calibrators / Calibration Heat Sources
No
Yes
No
Yes
Thermocouple & RTD Indicators / Recorders / Controllers
Yes
Yes
Yes
Yes
Temperature Simulators / Calibrators (Electrical)
Yes
Yes
No
No
Relative Humidity / Dewpoint / Hygrometers
Yes
Yes
Yes
Yes
Absolute Pressure Gauges & Manometers
Yes
Yes
Yes
Yes
Barometric Pressure
Yes
Yes
Yes
Yes
Mechanical and Electronic Timers / Stopclocks
No
Yes
Yes
Yes
Autoclaves, Media Preparators, Environmental Cabinets,
Chambers, Furnaces, Ovens, Liquid Baths
Yes
Yes
Yes
Yes
Electrical Equipment; DC & AC Current, DC & AC Voltage, Frequency, Resistance
Yes
Yes
No
No
PAT Testers
Yes
No
No
No
Optical Tachometers
Yes
Yes
No
No
We also have agreements with other UKAS accredited laboratories, for mercury in glass thermometers, force, weight, mechanical, etc. So we can offer a total one-stop comprehensive and competitive calibration service in our laboratory or at your site.